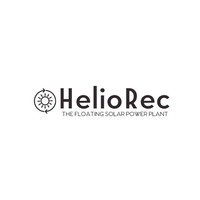 Primary tabs
About your organization
HelioRec is building floating solar power plants for near-shore locations where half of the global population lives. We are currently in the seed round (looking for €2M).
Key Highlights:
Techstars- and Entrepreneur First - backed company;
Pre-seed €500k to date;
100% manufacturing of floating system in Europe;
Patents (PCT applications) & Trademark secured;
The product is launched in Q1, 2022;
Revenue-generating (2022 - €83k; 2023 - €2.2M);
Upcoming paid projects with TotalEnergies, Van Oord, and Veolia (link)
We have JEI status (link) and the label of Solar Impulse Foundation (link).