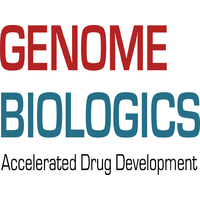 Primary tabs
About your organization
Genome Biologics implements computational AI-driven drug identification (GENIMAPS®) to an accelerated therapeutic validation technology (GENISYST®) to more efficiently reposition EMA-approved drugs. 
In applying this novel approach, we have identified clinical and pre-clinical drugs capable of maintaining cell viability and function in the face of toxicity-induced cell death. 
The SARS-CoV-2 virus infects and kills lung and heart cells giving rise to the respiratory and cardiac issues associated with COVID-19. The pathologic pathways utilised by SARS-CoV-2 are similar to pathways induced in our disease models. 
The drug candidates we have identified specifically prevent two key aspects of COVID19 disease progression, namely the amplification of viral particles and cell death, and the induction of tissue hyperinflammation leading to adverse outcome and death in patients. 
Importantly, unlike antiviral drug strategies that may only target specific strains of SARS-CoV-2, our approach is strain agnostic as it targets underlying cellular processes that are hijacked and exploited by all SARS-CoV-2 strains to drive infection propagation and disease progression. As some of the drugs we identified are already EMA-approved, their translation to widespread patient use could be accelerated.
There are no organizations in the network.